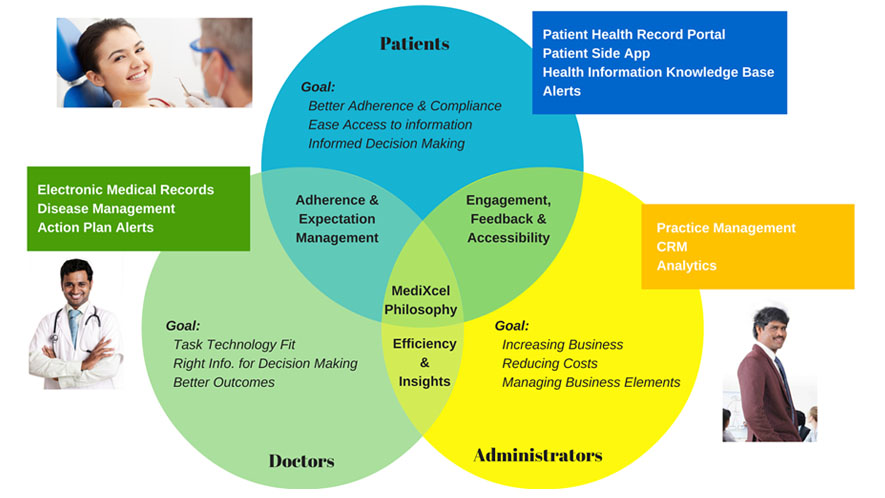 MediXcel: Platform Philosophy
The MediXcelTM platform caters to the ever-evolving clinical and business software needs of clinics of all sizes, diagnostics companies, small hospitals, geographically distributed healthcare chains, governments, and wellness organizations across the globe. It is a robust and secure platform that helps healthcare stakeholders collect, generate, share and analyze data.
The MediXcelTM platform includes solutions which provide for Electronic Medical Records, Practice Management, Business Practice Management including Accounting and Inventory, Patient Engagement and Relationship Management, Laboratory Services, Information Management, Disease Management Systems, Disease Surveillance Systems and Healthcare Analytics.
It permits for a large variety of integrations, both with devices as well as with 3rd party Software like Tally, Google Suite, Zoom, QuickBooks, etc.
MediXcelTM as a platform has found widespread use across the globe because of its focus on "simplicity and user satisfaction over all else".
Our product philosophy ensures that we help the various stake holders in a medical setup can use and benefit from the solution.
MediXcel is:
A simple to use Electronic Medical Record & Practice Management software for Clinics, Clinic Chains, Hospital OPDs & Wellness Providers
Browser based software deployed on your Local Area Network or the Cloud as per your need
Integrated CRM features which help you provide improved patient care
Provide Accessible, On Time and Patient Centric care with managed Workflow and Reminders
Manage Multi-clinic Access, Accounts, Inventory, Memberships and Patient Appointments
Medixcel Won Awards
A simple to use Electronic Medical Record & Clinic Management software for Clinics and Clinical Software Chains. One of the best practice management software now day's.
MediXcel EMR has won an award in the
Customers Choice — Fall 2020,Most Popular– Fall 2020, Users Most Likely to Recommend– 2021 and Most Popular Software–Fall 2022
 category at
SoftwareSuggest Recognition Awards Fall 2020/2021.