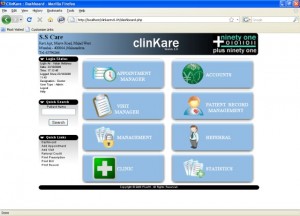 Why EMR ?
A doctor manages not just his patients health, but a small ecosystem which consists of his patients, his clinic, his funds, his assistants, his schedule and also his responsibilities towards a larger ecosystem, sharing information with his fellow professionals. To be able to effectively manage all these spokes of the wheel, and over and above provide quality service to his patients and profitability in his business, it is essential to have the right tools.
Efficiency, productivity, service, are usually not adjectives you will hear when addressing a clinic, or hospital in India. Patient care with a personal touch or packed place is something you will hear often, and more often than not Doctors tend to harp on these reasons for not adapting to new technologies.
Technology over time has evolved just like medicine and today companies like Plus91 strive to bridge the gap between the two, improving rather than diminishing personal attention to a patient, increasing footfalls rather than reducing time for patients. As technology evolves, we have made an EMR solution which is so easy to learn and adapt into your practice than you hardly waste time and are still on your feet catering to your packed practice. Technology has changed the way we communicate, today we aim to change the way we manage healthcare.
Using EMR in medical practice can improve patient care in the following ways:


EMRs keep medical Records Safe and secure
EMRs help Make better decisions
EMRs allow you spend Less time in management & more with patients
EMRs can let you Email the reports to non-local patients
EMRs cause Reduction in chaos during peak hours
EMRs allow you to Say no to Memory-based treatment
EMR let you get a specialists' and colleagues' opinion
EMRs prevent Handwritten Prescription Risk
EMRs allow Quick access & response during emergencies
EMRs can alert you to potential Adverse Drug Reactions
EMR allow Patient's access to records
EMRs help you keep track of Patient Consents
Frequently Asked Questions about EMR or Practice Management Solutions
Read how Patient Care Can be improved using EMRs at our Blog